Sedation Dentistry – Annandale, VA
No More Stressful Dental Visits
Dr. Salari offers sedation dentistry in her Annandale, VA dental office as a treatment method to relax patients during dentistry services. Dental sedation is a general dental option that may be used during complex or surgical procedures but may be also used for patients with dental fear or anxiety. We ask our patients to inform us if they require accommodations.
Keeping you informed before, during, and after your procedure, helps you better understand the treatment. To quell anxiety, patients can also wear earphones and listen to music on their phones. Many patients may also find it helpful to practice controlled breathing at dental visits. You may also let us know if you would like to take a short break during your treatment if it is routine and not done under sedation.
Benefits of Dental Sedation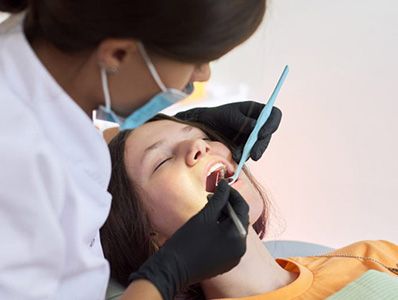 Sedation dentistry offers multiple advantages, including:
Pain-free dental care
More efficient treatment
Comfort and relaxation
More treatment in fewer visits
Contact Nova Smile Dental today if you think that you would benefit from dental sedation. We will be happy to answer any questions you may have about this treatment method.
Types of Sedation Dentistry
There are several types of dental sedation we offer our patients:
Nitrous Oxide: Also known as laughing gas, nitrous oxide is a mild sedative that keeps patients calm and relaxed during treatment. The effects of laughing gas wear off as soon as the mask is removed.
Oral Conscious Sedation: Taken in pill form prior to treatment, oral conscious sedation allows patients to be conscious during treatment. However, patients will not remember their procedure.
IV Sedation: Dr. Salari uses a local nurse anesthetist to administer local IV for patients. IV sedation delivers anti-anxiety medication through the bloodstream. Under IV sedation, patients may feel drowsy and relaxed several minutes after the medicine is administered.
Schedule a Dental Appointment
If you or a loved one have dental fear or anxiety but require dental care, call Nova Smile Dental today at 703.763.0800. You may also request a dental consultation with Dr. Salari on our website. Let our team know how we can help make your next visit as comfortable as possible.