Full Mouth Rehabilitation – Annandale, VA
It's Not Too Late
We offer full mouth rehabilitation in Annandale, VA at Nova Smile Dental. This rehabilitation process helps patients with lost, injured, worn, fractured, or "failed" teeth. Dr. Salari works with individual patients to understand their specific needs. She knows that every patient's needs are different and require different procedures.
Patients undergo a full mouth reconstruction over multiple dental office visits. Dr. Salari will determine which procedure or combination of procedures is necessary to restore and rebuild your smile. She will also refer you to other dental specialists if needed. Tooth damage and loss as well as periodontal disease is the most common dental problems that are needed for full mouth rehabilitation.
Tooth Damage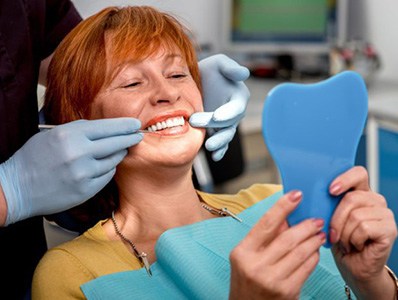 Damaged and injured teeth can be treated with porcelain veneers, tooth bonding, or dental crowns. Dr. Salari will recommend a treatment for you based on the extent of the tooth damage. Veneers and bonding treat the cosmetic surface of the tooth. They may be used to change the shape and color of the front of teeth. Dental crowns cover teeth fully like a cap and are best for extensive areas of damage.
Lost Teeth
Dental implants and implant restorations are the best method for replacing missing and lost teeth. Tooth implants are titanium posts that we surgically insert into the jawbone. Once the implants fuse with the jawbone, they can be covered by dental crowns, bridges, or dentures.
Gum Disease
Periodontitis, or gum disease, is caused by harmful bacteria that build up around and below the gum line. Gum disease can begin as inflammation or swelling but can lead to gum recession and even bone loss. To remove gum disease, we offer antibiotics, scaling and root planing, or laser dentistry. All of these treatments remove bacteria that cause periodontitis. With a dental laser, we can restore healthy gum tissue to areas of recession.
Schedule a Dental Appointment Today
Do you need multiple treatments to get your smile back on track? Call Dr. Salari today at 703.763.0800 or request a dental consultation online. Please let Dr. Salari know if you have questions during the treatment process. She will be glad to help.