Dental Implants — Annadale, VA
New Teeth That Will Last a Lifetime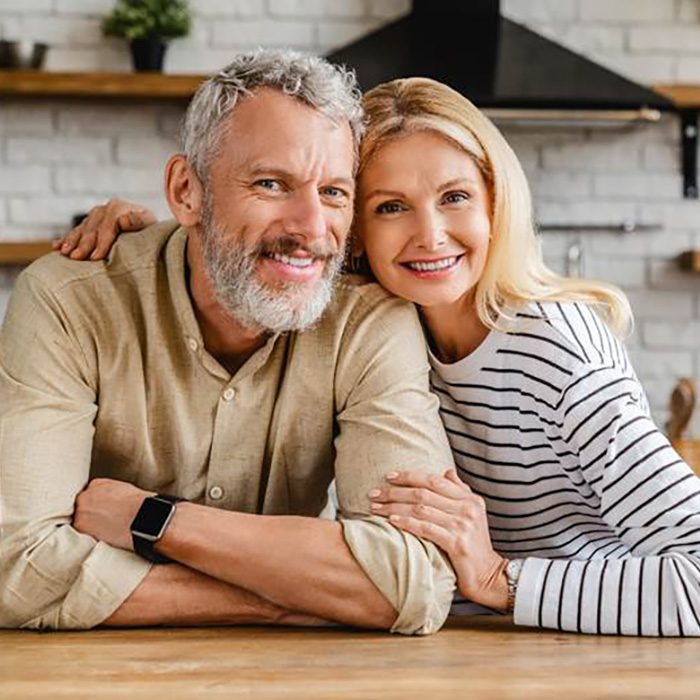 Are you missing one or more teeth? Dr. Salari provides dental implants for Annandale, VA dentistry patients. Dental implants are a versatile restorative dental solution that replaces missing or lost teeth. They can be used on their own or to support dental bridges and dentures and offer many benefits to patients with lost teeth. Not only do they improve oral health by preventing shifting and overcrowding that is often caused by missing teeth, but they make it easier to bite, chew, and speak comfortably. Dr. Salari will help you find the best implant restoration to fit your needs. She takes the budget, goals, and history of her patients into account when planning treatment.
Why Choose Nova Smile Dental for Dental Implants?
Implant Placement and Restoration Performed In-House
Highly Experienced Prosthodontist Serving You Care
Sedation Dentistry Available for Anxious Patients
What Are Dental Implants?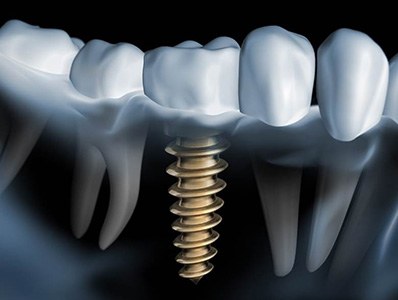 A dental implant is a type of tooth replacement that goes above and beyond what any traditional dental treatment can do. To replace teeth, a titanium post is surgically placed into the jawbone tissue and given time to heal and fuse with the bone. Then, an abutment (or small metal connector) is attached to the implant so it can hold a dedicated restoration, such as a crown, bridge or denture. Not only does replacing teeth in this way help you achieve a more natural-looking smile, but it restores your biting strength so you can eat your favorite foods without issue!
The 4-Step Dental Implant Process
Unlike getting dentures or a dental bridge, dental implants require a multi-step process that can take several months to complete. It may seem like a long time, but all of the benefits that you will experience are worth the wait! At Nova Smile Dental, we complete the entire dental implant process in-house instead of referring you somewhere else. Here are the four main steps you can expect when you get your new dental implants.
Initial Dental Implant Consultation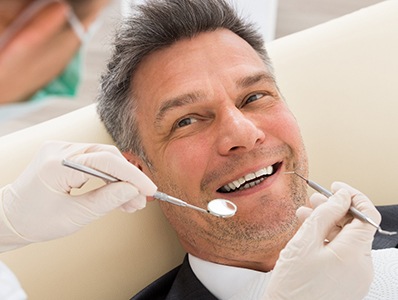 The first step in your journey is your dental implant consultation. During this appointment, we will look at your smile and surrounding facial structures. This will help us determine whether or not you make a good candidate for implants and where they should be placed in your mouth. During this visit, we are also happy to talk through the whole process, including the cost.
Sometimes, patients need preliminary procedures completed before they can proceed with the dental implant placement process. This could include bone grafting, gum disease therapy, and tooth extractions. Afterward, we can plan the rest of your treatment.
Dental Implant Surgery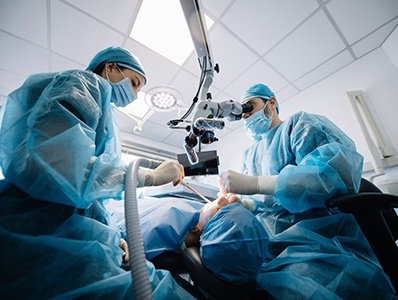 When it's time for your procedure, we will begin by numbing your mouth with a local anesthetic. Next, a small incision is made into the gum tissue to access your jawbone. The implants are placed at very precise angles and locations to fit in naturally with your smile. The final step is for your gums to be closed and protective caps to be placed over the implant posts to keep them safe throughout the duration of the healing process.
Dental Implant Osseointegration & Abutment Placement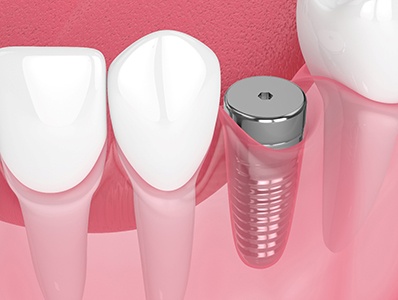 For the next couple of months, the design process will take place between your implant and your jawbone. This process is known as "osseointegration." This allows for your implants to maintain a sturdy foundation so that your replacement teeth stay in place when you speak and chew. When osseointegration is complete. The metal abutments will be placed on the ends of your implants.
Delivery of Dental Implant Restorations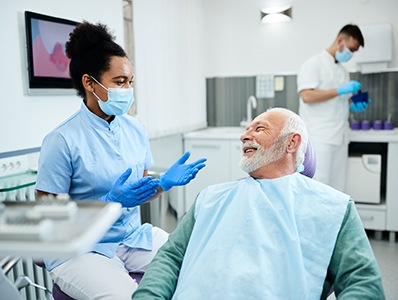 After your abutment has been placed, your restoration should be ready to go. You may return to the practice where you will receive your new crown, bridge, or denture. At this time, we will check to ensure that your bite is comfortable so you can enjoy the benefits of your complete smile.
Benefits of Dental Implants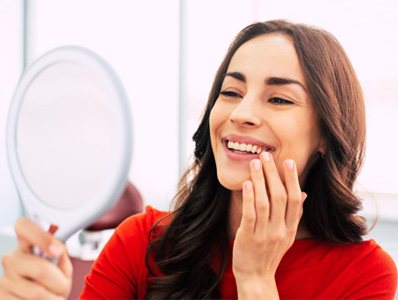 It's easy to see why dental implants are becoming the gold standard for tooth replacement treatments. By restoring your pearly whites from the roots up, they can provide the most reliable and natural-like restorations for your new smile. Not only do they help you regain the majority of your biting power, but they can also preserve your jawbone and remaining permanent teeth in the long run. Read along to learn several important benefits of dental implants in Annandale you can expect to enjoy!
Day-to-Day Benefits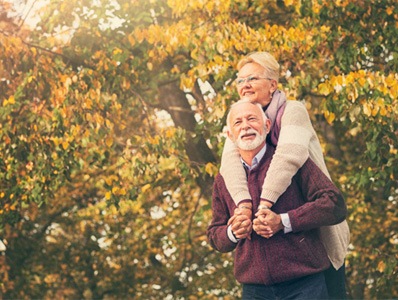 Easy Maintenance : Your new teeth won't require any special methods for cleaning them. By simply brushing and flossing them like natural pearly whites, along with regular checkups with Dr. Salari, you can keep a strong and healthy smile.
Natural-Looking Solution : Your dental implants will look and feel like your natural teeth due to them being fitted with custom-crafted porcelain restorations. We'll design them to match the rest of your smile, so you won't even notice the difference.
Improved Bite : Since they'll be directly anchored to your jawbone, you'll be able to regain 80% or more of your chewing power. This means you can enjoy all your favorite foods without worrying about your implants slipping or falling out.
Health Benefits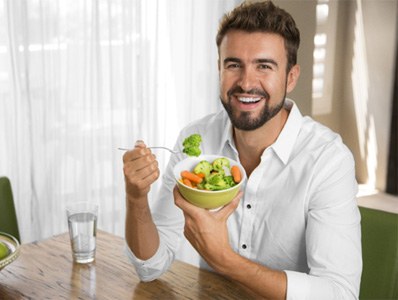 Protect Remaining Teeth : Unlike dental bridges, your dental implants will not be supported by adjacent teeth. Not only will they avoid the need to alter your natural pearly whites, but they'll also keep your remaining ones from shifting out of place.
Maintain a Youthful Appearance : Dental implants are the only restorations that can help you maintain your jawbone structure after tooth loss. This will promote a healthier foundation for your smile as well as a more youthful face in the long run.
Comfortable Tooth Replacement : Your metal posts will feel as natural as ever, so you won't have to worry about experiencing oral issues like gum sores, tooth sensitivity, or jaw discomfort that tend to come with other replacement options.
Long-Term Benefits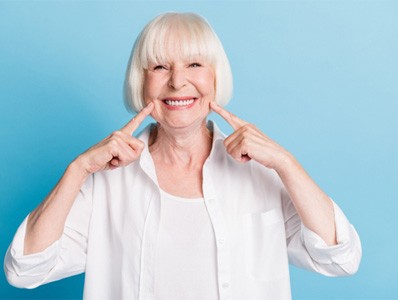 Effective & Reliable Results : Most patients with dental implants have a success rate of over 95%, even 10 years after being placed. Since you'll only need to maintain them with minimal dental care, you can expect them to work for many years to come.
Long-Lasting Solution : While your restoration can last 15+ years with proper maintenance, your dental implants themselves can last a lifetime. For this reason, this treatment is more cost-effective than your traditional options, as dental crowns, bridges, and dentures will need to be replaced every few years or so.
Who Dental Implants Can Help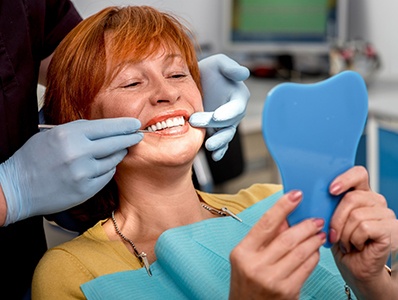 Almost anyone with missing teeth can get dental implants. The prosthetics are great at restoring smiles, whether you lack a few chompers or many! That said, a dental consultation is the best way to confirm candidacy. The visit lets our team see if implants could work for you. If you'd like to learn more about it, we at Nova Smile Dental can help: here are the ideal qualities of treatment candidates and the implant types we might suggest. Look them over to get a better feel for the consult. Otherwise, you're free to call our office for details!
Who is a Good Candidate for Dental Implants?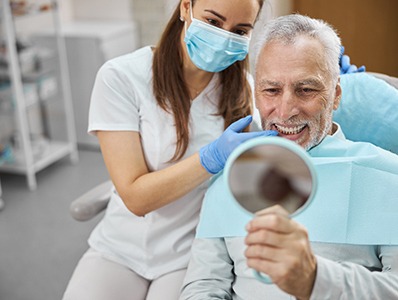 In general, most patients can meet the standards for implant surgery. You only need three things to be a good candidate for them. They are:
Good Overall Health: Implant placement is a surgical procedure, so your body needs to be well enough for minor oral surgery.
Strong Oral Health: If you have issues like cavities or gum disease, your implants could fail soon after surgery. Therefore, a dentist must address such conditions first.
Sufficient Jawbone Tissue: Implants rely on a solid jawbone for support. As such, your jaw must have enough bone tissue. Otherwise, treatment won't be successful.
Of course, you can get implants later if you're not a good candidate now. For instance, our office could perform preliminary work like tooth extraction, gum disease therapy, or bone grafting before surgery. We'd even help you book these procedures to get you on track for getting a new smile.
Missing One Tooth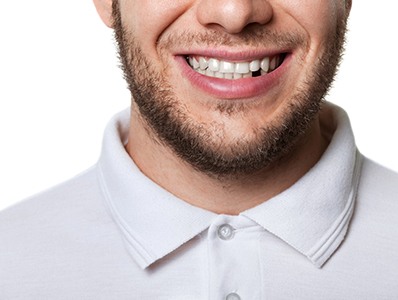 You need a standard implant post and crown if you only lack one pearly white. They'd replace your tooth seamlessly after placement.
Compared to a dental bridge, one perk of an implant is that it's sturdier and longer lasting. The latter has an average lifespan of 15-20 years. Meanwhile, a bridge only lasts about five to seven years.
Furthermore, implants don't involve enamel removal from nearby teeth. That puts them at odds with bridges, which shape surrounding chompers so the prosthetic can fit.
Missing Multiple Teeth
When you're missing a few teeth in a row, you'll benefit from an implant bridge – a dental bridge supported by two implants. It doesn't rely on other teeth and preserves your enamel.
Of course, implants also help if you need more teeth across the mouth. In that case, several can anchor a partial denture in place.
Missing All Teeth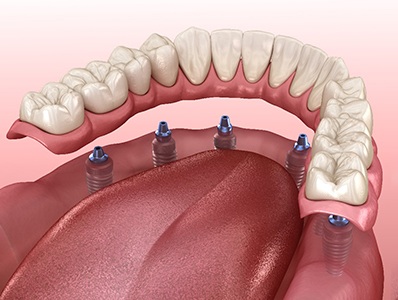 You may want to try an implant denture if you lack all your natural teeth (or you will soon). Unlike other kinds, this type is fixed with four to six well-placed dental implants. Therefore, it can restore an entire row of teeth at once.
This option is great if you'd prefer an alternative to regular dentures. You see, it doesn't slip around or lose its fit like standard ones. You'd then enjoy a confident smile, only having to put up with a minimal number of implant posts.
Understanding the Cost of Dental Implants
Dental implant treatments can vary significantly from patient to patient, which means the price can also differ between cases. Several factors can influence the overall cost of dental implants in Annandale, such as preliminary procedures, the number of metal posts, and the kind of restoration you'll need to restore your smile. Read along or schedule an initial consultation to learn what you can expect from the price range of this treatment. Our team will be glad to assess your oral health, discuss your smile goals, and can help you make the most of your benefits if you have dental insurance. Feel free to give us a call today if you have any questions!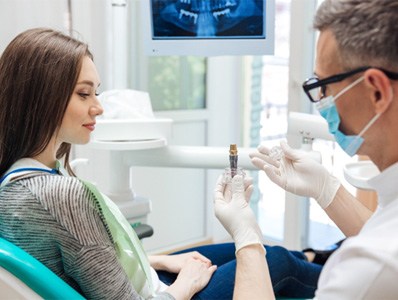 Preliminary Treatments & Dental Implant Surgery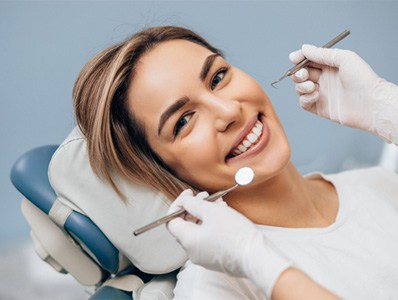 The success of your dental implants will depend on the health of your gums and jawbone. If you don't have a sufficient amount of bone tissue or strong gums, then you'll need preliminary treatments like bone grafting, periodontal disease therapy, or even tooth extractions. These can increase the overall cost of your procedure, but they'll be essential for maintaining a long-lasting solution for your new smile.
The details of your dental implant placement surgery can also affect how much you'll pay. This may include factors like the location your metal posts will be surgically placed as well as the kind of sedation used. Fortunately, our team can save you time and money by performing the complete dental implant procedure in-office.
The Parts of Your Dental Implant
Here's how the various pieces of your treatment can influence the overall cost of your procedure:
Type of restoration : Smaller options like dental crowns will cost less than larger ones like dentures.
Number of dental implants : The more metal posts you require, the higher the price range becomes.
The material or size : Dental implants that are made from zirconia, or are different from the usual size, can affect the cost.
Brand of dental implants : Since we use trusted brands for the highest quality results possible, you can expect the overall cost to be higher compared to products from other manufacturers.
How Dental Implants Can Save You Money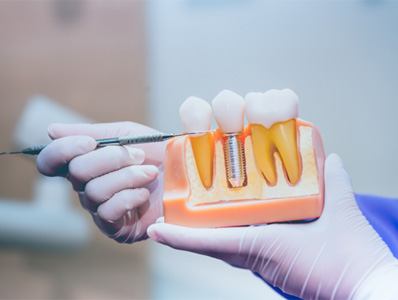 While other restorations like dentures and dental bridges may be convenient at first, they won't prevent dental shifting or further tooth loss like implants can. These options will also need to be replaced more frequently, which can hike up the overall price of your treatment. With dental implants, you can expect your restorations to last you 15 years or more with proper care. This alone can save you money and preserve your dental health in the long run!
Does My Dental Insurance Cover Dental Implants?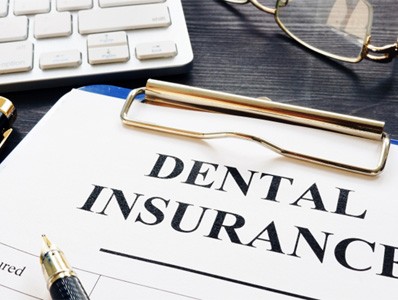 Although many dental insurance plans don't cover the implants themselves, they may make some exceptions for parts of the treatment. Some policies can offer coverage for your initial consultation, sedation therapy, and your restoration(s). We understand the importance of being able to afford necessary treatments like dental implants. Feel free to consult our knowledgeable team so we can review your insurance plan to help maximize your benefits.
Dental Implant Frequently Asked Questions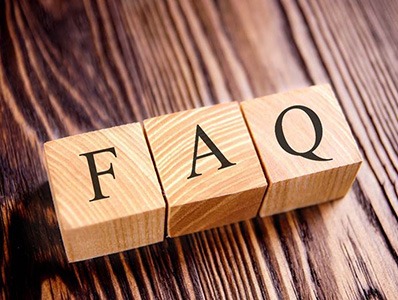 What Can I Use for Teeth While the Dental Implants Heal?
Many options are available, and they are tailored to your specific requirements. If you need a replacement tooth while the implants are healing, temporary removable teeth or a temporary bridge can be made. If all of your teeth are missing, we can usually modify your present complete denture or make you a new temporary denture. If you would prefer non-removable teeth during the healing phase, temporary transitional implants usually can be placed along with the permanent implants, and temporary teeth may be made and inserted the same day. Depending on your particular situation, some implants can be placed and "loaded" immediately. This means a temporary or permanent replacement tooth can be placed on, or shortly after, the day the dental implant is placed.
What are the Potential Problems After Dental Implant Surgery?
Although it is natural to be concerned about the pain that may be caused by these procedures, most patients do not experience severe or significant post-operative pain. Pain medication and antibiotics will be prescribed for you to make your recovery as easy as possible.
Occasionally, some people develop post-operative infections that require additional antibiotic treatment. Even though great care is taken to place the implant precisely, occasionally adjacent teeth are injured in the placement process. In addition, there is a chance that the nerve in the lower jaw, which provides sensation to your lower lip and chin, may be affected. If you are missing quite a lot of bone, it might be difficult to place an implant without infringing on the nerve space. Although we take great care to avoid this nerve, occasionally it is irritated during the procedure, resulting in tingling, numbness or a complete lack of sensation in your lip, chin, or tongue. Usually, these altered sensations will resolve within time, but they can be permanent and/or painful. If you notify us of post-operative numbness as soon as possible, it will allow us to manage your care in the most appropriate way.
When are the Replacement Teeth Attached to the Implant?
The replacement teeth are usually attached to the implant when adequate healing has occurred and your jawbone is firmly fused to the implant. Depending on a variety of factors, it may be possible to begin this phase of your treatment immediately or shortly after implant placement. We will review the most appropriate treatment sequence and timing for your particular situation.
The dental work required to complete your treatment is complex. Most of the work involves actually making the new teeth before they are placed. Your appointments are considered more comfortable and more pleasant than previous methods of tooth replacement. Frequently, this process can be performed without local anesthesia.
Your restorative treatment begins with specialized impressions that allow Dr. Salari to produce a replica of your mouth and implants. We will also make "bite" records so that we see the relationship between your upper and lower jaws. With this information, we will make the abutments (support posts) that attach your replacement teeth to your implants. Various types of abutments exist. Frequently, we can use "off the shelf" abutments. Other times, custom abutments must be made of gold or a tooth-colored ceramic material. As you can imagine, these custom-made abutments add to the cost and treatment time involved. Which abutment to use is a decision that often cannot be made until after healing is complete and impressions have been made.
The number of appointments and the amount of time required for each appointment is different for each patient. No two cases are exactly the same and regardless of the number of teeth replaced, the work must be completed with great precision and attention to detail. If you are having only a few teeth replaced, as few as three short appointments may be required. Between appointments, we will need time to complete the necessary lab work to make your replacement teeth. It is most beneficial that you keep all of your scheduled appointments.
If your final restoration is a removable denture, you will need to come to as many as five dental office appointments (although it may be fewer) over the following several months. During these appointments, we will perform a series of impressions, bites and adjustments in order to make your new teeth, as well as the custom support bars, snaps, magnets, or clips that will secure your teeth to the implants. During this period, every effort will be made to ensure you have comfortable, temporary replacement teeth.
In general, once your implants are placed, you can expect your tooth replacement treatment to be completed anywhere from 1 to 12 months. For these reasons, it is difficult for us to tell you exactly how much the restorative phase of your treatment will cost, although you should receive a reasonable estimate from our dental office. It also is difficult to give you a specific timeframe for completion of your treatment until after the implants are ready for restoration.
How Do I Clean My New Teeth?
As with natural teeth, it is important that you clean implant-supported restorations regularly with toothbrushes, floss and any other recommended aids. You should also visit your dentist several times each year for hygiene and maintenance. As with regular dentures and other tooth replacements, your implants and their associated components are subject to wear and tear and eventually will need repairs, including clip replacement, relines, screw tightening, and other adjustments.