Laser Dentistry – Annandale, VA
Fast & Comfortable Laser Treatment
Are you looking for a more comfortable way to treat your dental problems? Dr. Salari provides laser dentistry to her patients in Annandale, VA. Dental lasers can be used to whiten teeth, cut tongue-ties, graft gum tissue, and perform pocket reduction surgery. They have been shown to be safe and effective for treating both children and adults. As a general dental solution, laser dentistry in our Annandale, VA dental office helps reverse the effects of dental problems and prevent future oral health issues.
Benefits of Dental Lasers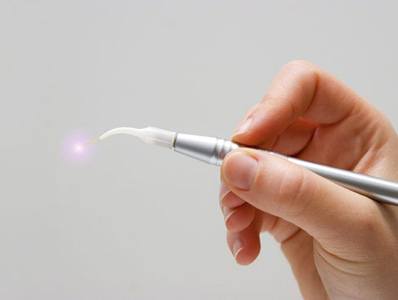 Laser dentistry reduces bleeding and minimizes swelling with little noise or vibration. Patients can experience quick, effective, and pain-free procedures when we use dental lasers. Dental lasers use high-energy beams of light to sterilize a treated area, which reduces the risk of bacterial infection. In addition, dental lasers help the healing process and have a quicker recovery time than traditional methods. Dental lasers are a great option for anxious or fearful dental patients because they are quiet, painless, and comfortable.
Types of Laser Dentistry Treatments
There are a variety of treatments that use dental lasers:
Frenectomy: A frenectomy is a procedure that treats tongue-tie. Tongue-tie occurs when there is a band of tissue under the tongue A dental laser can easily cut this band and free up the tongue.
Osseous Surgery: Also known as pocket-reduction surgery, osseous surgery helps treat deep gum pockets that form as a result of advanced gum disease. During osseous surgery, Dr. Salari cuts the gums with the laser and removes the bacteria living in the gum pockets. Then, she may use a gum graft to help regenerate the gums.
Gum Grafting: A gum grafting procedure adds additional gum tissue to areas affected by gum disease. After treating deep gum pockets or removing infected gum tissue, we can take healthy gum tissue and place them in areas where it is needed.
Teeth Whitening: Our laser teeth whitening treatment uses the light and heat of a dental laser to essentially cure whitening agents onto the tooth enamel.
Contact Our Dental Office Today
Are you looking for a quick and efficient dental treatment method? Ask our dental office about dental lasers today. Call Nova Smile Dental at 703.763.0800 or request a dental appointment with our team online.