Custom Mouthguards – Annandale, VA
Stay Safe While Staying in the Game
Do you play contact sports? Are you looking for a dental office that provides custom sports mouthguards? Call Nova Smile Dental today. Dr. Salari helps provide custom sports mouthguards for her patients in Annandale, VA. Professionally made mouthguards protect the teeth and gums from injury or damage during contact sports. Sports like football, lacrosse, hockey, and soccer require players to wear mouthguards for their own safety. The custom mouthguards from our Annandale, VA dentist are a general dental treatment that prevents patients from requiring future cosmetic and restorative care.
Benefits of Professional Sports Mouthguards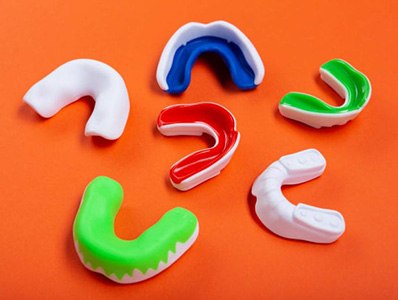 When compared to store-bought custom mouthguards offer a better fit. Over-the-counter mouthguards can easily fall out and distract athletes. Sometimes players have to clench their jaws to keep store-bought mouthguards in place. Alternatively, professionally-made sports mouthguards do not fall out and make it easy for players to speak and drink.
Receiving a Custom Mouthguard
We use dental impressions as a template for your custom mouthguard. After we take your digital impressions, we send them to a dental lab where the mouthguards are made. Once the mouthguard is complete, we will call you back to our dental office to make sure that it fits properly and comfortably. Mouthguards should be cleaned regularly with soap and warm water. Do not use hot water to rinse the mouthguard as this can warp the plastic. You can dry your mouthguard by placing it in its ventilated case. By cleaning your sports mouthguard, you can keep it smelling fresh and prevent the growth of harmful bacteria.
Using Mouthguards for TMJ
Oral appliances are different from sports mouthguards in that they are made from plastic with a different thickness and fit. However, we may also use these mouthguard-like devices to treat TMJ disorders. Oral appliances stop teeth clenching and grinding. They also prevent wear and tear to the tooth enamel.
Contact Our Dental Office
Do you need a new sports mouthguard for the upcoming season? Schedule a dental consultation with Dr. Salari on our website. Contact Nova Smile Dental at 703.763.0800. Please let us know if you have any questions or concerns. We will be glad to assist you.