Dental Crowns – Annandale, VA
How We Can Revitalize Teeth
Do you have stained, worn, or damaged teeth? Are you looking for a dental restoration to improve the look and function of your teeth? Dr. Salari offers dental crowns in Annandale, VA at Nova Smile Dental. Dental crowns are porcelain ceramic caps that cover entire teeth. Because they are crafted from porcelain ceramic, our crowns look just like natural teeth. Tooth crowns also provide durability and strength to both natural teeth and dental implants.
Dental Crown Treatment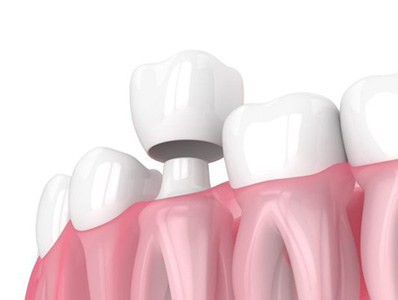 During the first visit, we will make sure that the teeth are clean and healthy. Then, we will take an impression of the teeth and send it to a dental lab. We will provide you with a temporary crown during this time. Once we receive your new crown from the lab, we will permanently attach it to your tooth. Remember to keep up with your routine oral hygiene and schedule regular dental visits to keep your crowns healthy. Tooth crowns can last 30 years with the right care.
Inlays and Onlays
Comparable to tooth crowns or dental fillings, inlays and onlays cover the surface of worn teeth. They are made of a layer of porcelain that covers the tooth surface. Onlays cover the cusps, or upper sides, of the tooth. Because of this, they are often called partial crowns. Inlays fill the area between the cusps.
Dental Crown Aftercare
Dental crowns and dental bridges usually take two or three appointments to complete. In the first visit, the teeth are prepared and molds of the mouth are taken. Temporary crowns or bridges are placed to protect the teeth while the custom restoration is being made. Since the teeth will be anesthetized, the tongue, lips, and roof of the mouth may be numb. Please refrain from eating and drinking hot beverages until the numbness is completely worn off.
Occasionally a temporary crown may come off. Call us if this happens and bring the temporary crown with you so we can re-cement it. It is very important for the temporary to stay in place, as it will prevent other teeth from moving and compromising the fit of your final restoration.
To keep your temporaries in place, avoid eating sticky foods (gum), hard foods, and if possible, chew on the opposite side of your mouth. It is important to brush normally, but floss carefully and don't pull up on the floss which may dislodge the temporary crown but pull the floss out from the side of the temporary crown.
It is normal to experience some temperature and pressure sensitivity after each appointment. The sensitivity should subside a few weeks after the placement of the final restoration. Mild pain medications may also be used as directed by our dental office.
If your bite feels uneven, if you have persistent pain, or if you have any other questions or concerns, please call our dental office.
Dental Crown Frequently Aasked Questions
Want to know more about dental crowns? Read answers to common questions patients have about dental crowns:
Is it painful to receive dental crowns?
No, dental crown treatment is not painful. A local anesthetic is used to numb the area that is receiving the dental crown. We also offer sedation dentistry, which relaxes patients and provides pain-free procedures. Following treatment, we prescribe pain medication and encourage the use of ice packs to combat swelling.
Can dental crowns fall out?
Tooth damage, decay, or gum infections can loosen dental crowns. We will monitor the condition of your dental crown during routine dental care visits. Please let us know if there are any changes in the fit or comfort of your crown. Our team also ensures that each patient has healthy teeth and gums before their treatment to lessen the chance of crown failure.
Am I a candidate for dental crowns?
Most patients who still have their teeth can receive dental crowns. Patients with intact tooth roots, missing teeth, or even infected teeth can receive dental crowns. This is because we can remove infections and ensure that their teeth are healthy enough for treatment. Patients with missing teeth may also receive dental implants, dentures, or dental bridges which can be capped off with dental crowns.
Schedule a Dental Consultation
Do you want to try dental crown treatment? Contact Nova Smile Dental by calling 703.763.0800. You may also request a dental appointment with Dr. Salari and her team on our website. Our dental office serves patients from Fairfax, Annandale, and Northern Virginia. We encourage patients to let us know if they have questions or concerns during the treatment process. Our team is always ready to help.