Dental Bridges – Annandale, VA
Close the Gap for Good
Do you have consecutive missing teeth? Dr. Salari provides dental bridge treatment at Nova Smile Dental in Annandale, VA. Dental bridges are prosthetics that attach artificial teeth to adjacent natural teeth or abutment teeth. Dental bridges may be fixed or removable. We often recommend that patients receive fixed bridges as they last longer than removable options. As a restorative dental solution, dental bridges from our Annandale, VA dentist improve the function, health, and even aesthetics of the smile.
Fixed vs. Removable Dental Bridges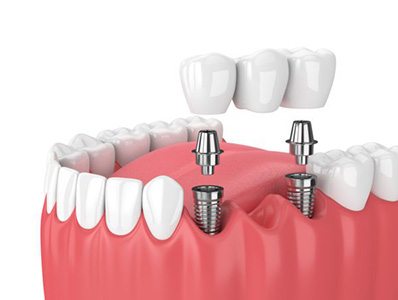 Removable bridges are attached to the teeth with metal clasps or attachments. This type of dental bridge is often used while a fixed bridge is fabricated. We do not recommend that patients use removable bridges long-term as they do not offer the proper support that missing teeth require.
Traditionally, fixed bridges are created by placing crowns on the natural teeth adjacent to the missing tooth gap. Fixed bridges offer more support than removable bridges. However, implant-supported dental bridges help support the overall tooth structure. This is because dental implants replace teeth at the socket. Implants also fuse with the jawbone for added stability. Implant-secured dental bridges require fewer repairs and also last longer than other types of fixed bridges.
Dental Bridge Treatment
If you are receiving a traditional fixed bridge, Dr. Salari will prepare the teeth on either side of the missing teeth gap. She will take dental impressions and send them to a dental lab where the bridge is constructed. Finally, dental crowns are attached to adjacent natural teeth as support for the dental bridge.
For patients with implant-secured bridges, Dr. Salari will also take dental impressions of the teeth. These impressions are first used for dental implants, which she surgically places in key spots of the mouth. Once the implants are healed, she will take impressions for the final bridge. Dental implants provide more stability to the bridge and last longer than traditional options.
Dental Bridge Aftercare
Dental crowns and dental bridges usually take two or three appointments to complete. In the first visit, the teeth are prepared and molds of the mouth are taken. Temporary crowns or bridges are placed to protect the teeth while the custom restoration is being made. Since the teeth will be anesthetized, the tongue, lips and roof of the mouth may be numb. Please refrain from eating and drinking hot beverages until the numbness is completely worn off.
Occasionally a temporary crown may come off. Call us at if this happens and bring the temporary crown with you so we can re-cement it. It is very important for the temporary to stay in place, as it will prevent other teeth from moving and compromising the fit of your final restoration.
To keep your temporaries in place, avoid eating sticky foods (gum), hard foods, and if possible, chew on the opposite side of your mouth. It is important to brush normally, but floss carefully and don't pull up on the floss which may dislodge the temporary crown but pull the floss out from the side of the temporary crown.
It is normal to experience some temperature and pressure sensitivity after each appointment. The sensitivity should subside a few weeks after the placement of the final restoration. Mild pain medications may also be used as directed by our dental office.
If your bite feels uneven, if you have persistent pain, or if you have any other questions or concerns, please call our dental office.
Call Our Annandale Dental Office
Are you missing multiple teeth? Do you want to know more about dental bridges? Contact Nova Smile Dental at 703.763.0800. You can also request a dental consultation with Dr. Salari on our website.