Family Dentistry – Annandale, VA
A Welcoming Place for Everyone
Nova Smile Dental is a family dental office in Annandale, VA that offers treatment for patients of all ages. Dr. Salari welcomes families so they can receive the dental treatment they need under one roof. As a restorative and cosmetic dentist, Dr. Salari has extensive expertise in treating a variety of dental problems. She can also provide general dentistry as preventative care for her patients. Family dentistry from our Annandale, VA dentist is a type of dental service that prevents dental problems over a lifetime.
Dental Care for the Whole Family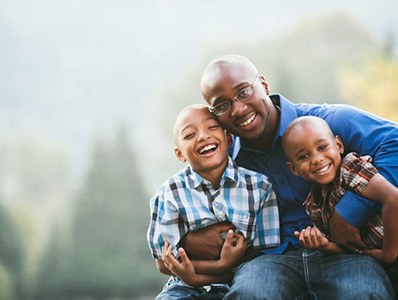 Dr. Salari and her team provide patients with a lifetime of happy and healthy smiles in their Annandale dental office. Whether you need help caring for your child's baby teeth or require restorative treatment for yourself, our dental office can help.
Early Cavity Prevention
At Nova Smile Dental, we want parents and their children to learn the best oral hygiene methods to keep decay and infection at bay. Our friendly dental staff creates a comfortable environment for all patients so they can feel welcomed.
Fluoride treatments and dental sealants are solutions we provide in-office for our younger patients. These preventative treatments address cavities and tooth decay, which are prevalent among children. Fluoride may be applied at routine visits to strengthen the tooth enamel and fight harmful bacteria. Dental sealants are coatings that we can adhere to the back teeth. Sealants create a protective barrier around these teeth, which are prone to decay.
Preventative and Cosmetic Dental Care
We provide custom sports mouthguards for younger and older patients. If you or your child play contact sports, you need a professional mouthguard to protect your teeth and gums from damage or injury. Sports mouthguards are a preventative treatment that keeps patients from needing future cosmetic and restorative treatment.
Dental bonding may also be used on both children and adults. Tooth bonding uses biocompatible resin to treat chips, cracks, fractures, and misshapen teeth. Unlike porcelain veneers, dental bonding is not a permanent solution. However, bonding is a more economical treatment and benefits patients who only need minor repairs.
Restorative Dental Solutions
As we age, we can encounter dental problems caused by certain medications, infections, and injuries. One of the most common dental problems more mature patients encounter is missing teeth. Dental implants and implant restorations are the best methods for patients with missing teeth because they restore teeth at the root.
Implants are titanium posts that we surgically insert into empty tooth sockets. They may be used for single missing teeth or may secure bridges or dentures. When bridges and dentures are supported by dental implants, they allow patients to enjoy foods without restrictions and speak much easier. Implant restorations also last longer than removable ones.
Request a Dental Consultation Today
Are you looking for a family dentist in the Annandale, Fairfax, or Northern Virginia area? Call Dr. Salari at 703.763.0800 or schedule a dental appointment on our website today. Please let Dr. Salari and her team know if you have any more questions. They will be happy to assist you.