Cosmetic Dentistry – Annandale, VA
Smile Brighter Than Ever Before
Dr. Salari wants her patients to feel comfortable and confident with their smiles. Her cosmetic dental services improve the look and aesthetics of the smile. Brightening the tooth enamel, straightening crooked teeth, and addressing tooth damage not only balances the smile but also improves oral health. For example, Invisalign aligners can straighten crooked and overcrowded teeth. Straightening your smile can actually prevent gum disease and tooth decay. It can be difficult to clean between crooked teeth. Harmful bacteria can easily build up in hard-to-reach spaces and lead to cavities, gum recession, and even tooth loss. Receiving a whiter and straighter smile through cosmetic dentistry in Annandale, VA also motivates patients to care for their smiles and maintain their results.
Read on to learn more about the cosmetic dental treatments that Dr. Salari offers to her patients:
Invisalign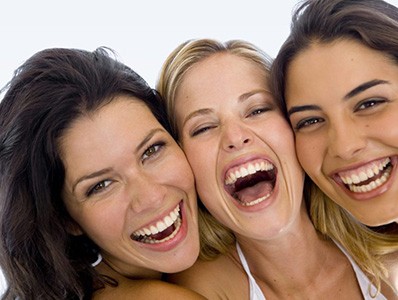 Invisalign is a modern way for patients to address crooked and misaligned teeth. This conservative treatment option utilizes clear aligners that gradually shift teeth in a straighter and more balanced position. Invisalign aligners are switched out every few weeks to gradually and comfortably realign the teeth.
Porcelain Veneers
Our dental veneers are crafted from porcelain ceramic, a durable and strong material that can be color-matched to the shade of natural teeth. Porcelain veneers can be used to cover stained, chipped, and fractured teeth. They can also address small gaps between the teeth. Dental veneers are a permanent cosmetic restoration for patients who want a more uniform and balanced look to their smile.
Teeth Bonding
Dental bonding treatment uses biocompatible resin material to add structure to chipped and cracked teeth. This material is sculpted and molded onto the tooth enamel to change the shape and color of teeth. Tooth bonding treatment benefits patients with minor cosmetic concerns who want a solution that easily blends in with their smile.
Teeth Whitening
Professional teeth whitening treatment can brighten the smile by multiple shades. Whitening yellowed, stained, and discolored teeth can also help patients take care of their smiles. Patients who receive brilliant results with our professional teeth whitening are more likely to maintain their results with good oral hygiene habits. Our dental office can also provide touch-up treatments for patients to ensure long-lasting results.
Cosmetic Reconstruction Aftercare
Remember that it will take time to adjust to the feel of your new bite. When the bite is altered or the position of the teeth is changed it takes several days for the brain to recognize the new position of your teeth or their thickness as normal. If you continue to detect any high spots or problems with your bite, call our dental office so we can schedule an adjustment appointment.
It is normal to experience some hot and cold sensitivity. The teeth require some time to heal after removal of tooth structure and will be sensitive in the interim. Your gums may also be sore for a few days. Warm salt water rinses (a teaspoon of salt in a cup of warm water) three times a day will reduce pain and swelling. A mild pain medication (one tablet of Tylenol or Ibuprofen (Motrin) every 3-4 hours) should ease any residual discomfort.
Don't be concerned if your speech is affected for the first few days. You'll quickly adapt and be speaking normally. You may notice increased salivation. This is because your brain is responding to the new size and shape of your teeth. This should subside to normal in about a week.
Daily brushing and flossing are a must for your new dental work. Daily plaque removal is critical for the long-term success of your new teeth, as are regular cleaning appointments.
Any food that can crack, chip or damage a natural tooth can do the same to your new teeth. Avoid hard foods and substances (such as beer nuts, peanut brittle, ice, fingernails, or pencils) and sticky candies. Smoking will stain your new teeth. Minimize or avoid foods that stain such as coffee, red wine, tea and berries.
If you engage in sports let us know so we can make a custom mouthguard. If you grind your teeth at night, wear the night guard we have provided for you. Adjusting to the look and feel of your new smile will take time. If you have any problems or concerns, please let us know. We always welcome your questions.
Smile Makeover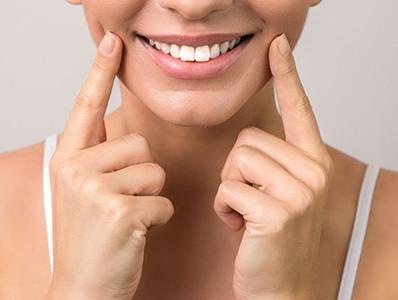 If you're struggling with a minor imperfection like a chipped tooth, you may be able to achieve your dream smile in as little as one hour with to dental bonding. But what if you're dealing with several dental flaws? Are your smile goals out of reach? Thanks to completely personalized smile makeovers, the answer is no! Our cosmetic dentist in Annandale can streamline your treatment so you get the beautiful results you deserve as quickly and safely as possible.
Learn More About Smile Makeover
Cosmetic Dental Frequently Aksed Questions
Want to know more about cosmetic dentistry? Read on to learn answers to common questions about cosmetic dental care:
Why choose Dr. Salari as a cosmetic dentist?
Dr. Salari has years of experience in helping patients get brilliant cosmetic results. She specializes in smile makeovers, which remove infection and replace teeth to improve the function of the smiles. Cosmetic treatments are used as the last step of a smile makeover to address the color and form of teeth.
How do porcelain veneers compare to dental bonding?
Dental veneers are thin shells that cover the front of the tooth enamel. Our dental veneers offer natural-looking and long-lasting results because they are made of porcelain ceramic. Tooth bonding is a more economical alternative when compared to veneers. Although bonded teeth may require more upkeep, they also blend in with the natural smile.
What are the benefits of Invisalign?
Invisalign is a modern orthodontic treatment that provides more comfort for patients when compared to traditional metal braces. Clear Invisalign aligners are removable, which means patients do not have dietary restrictions. Patients can also thoroughly brush and floss their teeth and then put their aligners back on. Compared to traditional braces, Invisalign aligners do not injure or irritate the gums with metal wires.