Restorative Dentistry – Annandale, VA
Your Smile's Best Days Are Ahead
At Nova Smile Dental, Dr. Salari helps patients revitalize their smiles with comprehensive restorative dental solutions. Dr. Salari specializes in implant dentistry and TMJ therapy. These treatments can replace missing teeth and correct jaw dysfunction and tooth damage. Patients with missing, damaged, and even infected teeth benefit from restorative dentistry in Annandale, VA. Dr. Salari takes a comprehensive approach to treating patients. She also offers full mouth reconstruction for patients who require multiple treatments to achieve the healthiest smile possible.
Restorative Dentistry in Annandale, VA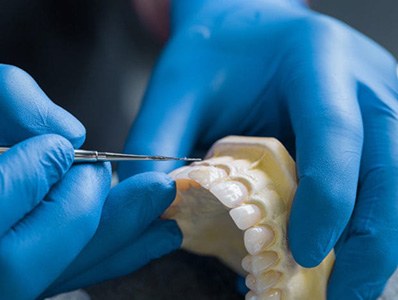 Dr. Salari's restorative dental services improve the appearance of the smile and bring function back to dysfunctional smiles:
Dental Bridge
Dental bridges are dental prosthetics that restore multiple missing teeth. Patients with consecutive missing teeth can receive bridges to fill the gaps in their smiles. Dental bridges are typically secured by adjacent natural teeth topped with dental crowns or dental implants.
Dental Crown
Our durable tooth crowns are crafted from porcelain ceramic. When made out of this material, dental crowns provide durability and strength to damaged and weakened teeth. Crowns fully cover the tooth and look and feel like natural teeth.
Dental Implants
Dental implants are versatile dental restorations that can replace single missing teeth, consecutive missing teeth, or upper and lower arches of missing teeth. Implants are titanium posts inserted into the jawbone. After they fuse with the jawbone, dental implants are topped with an abutment and dental crown. Dental implants are often used to secure dentures or dental bridges.
Full and Partial Dentures
Dentures are the best dental restoration for patients missing rows or arches of teeth. Depending on the needs of our patients, we can provide them with partial or full dentures. Partial dentures replace rows of missing teeth, while full dentures restore arches of lost teeth.
Full Mouth Rehabilitation
A full mouth rehabilitation is a specialized treatment that replaces missing teeth and addresses tooth damage or infection. We recommend a full mouth rehabilitation to patines with multiple dental problems who want to restore the function and health of their teeth and gums.
Periodontal Therapy
Periodontitis, or gum disease, is a common yet persistent dental problem that may start out with gum sensitivity and quickly lead to tooth loss. If your gums bleed when you brush and floss, or if your gums are sensitive to temperature, call our dental office for care.
TMJ Treatment
The temporomandibular joint which connects the jawbone to the skull causes painful symptoms if it is not functioning properly. TMJ disorders can cause jaw and facial pain, teeth clenching and grinding, and chronic headaches. Dr. Salari specializes in TMJ therapy and can alleviate these symptoms in her Annandale dental office.
Restorative Dental Frequently Asked Questions
Patients may still have questions about the dental concerns that restorations treat. Read answers to some of these questions below:
What causes tooth loss?
The most common causes of tooth loss are injury, poor oral hygiene, tooth decay, and gum disease. At routine dental appointments, we will look for signs of infection and help patients maintain their oral health and hygiene.
How long do dental implants last?
Dental implants are permanent restorations. This is because they fuse with the jawbone for added durability and stability. We will ensure that your implants last for many years with regular examinations during routine appointments. Even before your implant treatment, our team thoroughly examines the smile to look for signs of infection or dysfunction. These problems can be treated for healthy results.
How does gum disease develop?
Gum disease is caused by a buildup of bacteria that irritates the gum tissue. This buildup of bacteria forms into plaque, a sticky substance that collects around and even underneath the gums. We can eliminate this harmful bacteria and plaque with our periodontal treatments.
Schedule a Dental Consultation Today
Do you want to restore your smile with modern dental treatment? Contact Dr. Salari of Nova Smile Dental at 703.763.0800. You may also request a dental appointment with Dr. Salari online.