Invisalign – Annandale, VA
The Clear Path to Straighter Teeth
Are you looking for a treatment that straightens crooked and misaligned teeth? Dr. Salari provides Invisalign treatment at Nova Smile Dental in Annandale, VA. Invisalign is a cosmetic dental service that uses clear plastic aligners to straighten teeth over time. As a modern orthodontic treatment, Invisalign comfortably and effectively realigns the smile. It's also never too late to try Invisalign from our Annandale, VA cosmetic dentist. If you have worn braces in the past but have an orthodontic relapse, call our dental office. We can create a treatment plan for you that fits your budget and goals.
Invisalign Treatment vs. Traditional Braces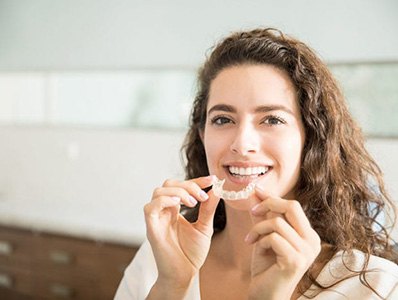 To begin Invisalign treatment, we will take dental impressions of the teeth. These impressions are sent to a local dental lab that creates the custom aligners. Once the aligners are complete, each set will be worn for two weeks and then switched out for a new set. Invisalign aligners may be removed to eat, drink, and brush your teeth throughout the day. Some check-up appointments may be necessary, but these appointments are only required to keep track of your progress.
With traditional braces, patients must brush around the metal brackets and wires. This means that they may be left with temporary spots in the middle of their tooth enamel following treatment. Patients with metal braces also cannot eat super crunchy and chewy foods as this can damage their dental hardware. With metal braces, patients need to visit the dentist for maintenance regularly. Although traditional metal braces benefit patients with severe orthodontic concerns, they may not be the best for those with mild or moderate issues.
Invisalign Frequently Asked Questions
Do you still have questions about Invisalign? Learn more about this cosmetic treatment below:
Am I a candidate for Invisalign?
Invisalign benefits teens and adults with mild to moderate orthodontic problems. Patients with severe overcrowding or misalignment may require more traditional treatment methods of even oral surgery. We do not recommend Invisalign for children as their permanent teeth are still coming in.
What can I eat and drink while wearing Invisalign?
Patients do not have any dietary restrictions with Invisalign. However, they must remove their aligners before eating or drinking. We recommend that patients only drink water when their aligners are on their teeth. Residue from certain foods and drinks can stain the trays or get stuck in the aligners. Remember to clean your aligners before putting them back on.
How long do you have to wear Invisalign?
Patients should wear their Invisalign aligners for at least 22 hours a day. When Invisalign aligners are maintained properly and worn regularly, patients can complete treatment within a range of 12 to 18 months. Invisalign may be removed when eating, drinking, brushing, and flossing. However, the more time the aligners are on the teeth, the more effective treatment will be.
Schedule a Dental Consultation
Do you want to try Invisalign? Call Nova Smile Dental for a consultation today at 703.763.0800. You may also request a dental appointment with Dr. Salari or a member of her dental team on our website. We serve patients from Fairfax, Annandale, and Northern Virginia.