Invisalign – Annandale, VA
The Clear Path to Straighter Teeth
Are you looking for a treatment that straightens crooked and misaligned teeth? Dr. Salari provides Invisalign treatment at Nova Smile Dental in Annandale, VA. Invisalign is a cosmetic dental service that uses clear plastic aligners to straighten teeth over time. As a modern orthodontic treatment, Invisalign comfortably and effectively realigns the smile. It's also never too late to try Invisalign from our Annandale, VA cosmetic dentist. If you have worn braces in the past but have an orthodontic relapse, call our dental office. We can create a treatment plan for you that fits your budget and goals. If you're ready to learn more about the clear path to straighter teeth, don't hesitate to give us a call.
How Invisalign Works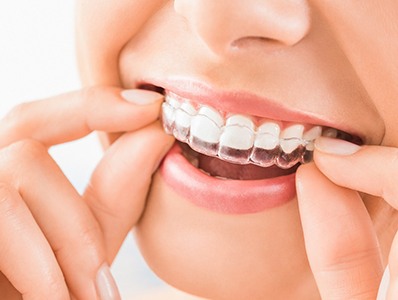 To begin Invisalign treatment, we will take dental impressions of your teeth. These impressions used to create a series of clear plastic aligners that fit over the teeth. Each set of aligners will gradually shift your teeth into their proper positions until you have a beautifully aligned smile. When your aligners are created, you'll return to our office to retrieve them. From there, you'll wear one set of aligners for 20-22 hours every day for two weeks, at which point you'll move onto the next set of aligners in the series. Invisalign aligners may be removed to eat, drink, and brush your teeth throughout the day. Some check-up appointments will be necessary, but these appointments are quick and easy.
When Invisalign aligners are maintained properly and worn regularly, patients can complete treatment within a range of 12 to 18 months. Invisalign may be removed when eating, drinking, brushing, and flossing. However, the more time the aligners are on the teeth, the more effective treatment will be. If you don't wear your aligners enough, you may increase the length of time needed to complete your treatment.
Indications for Invisalign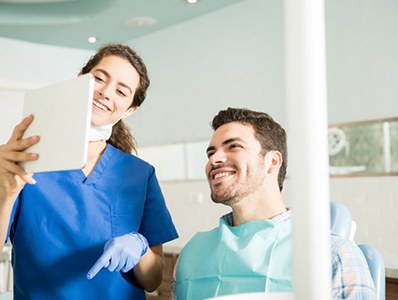 Invisalign benefits teens and adults with mild to moderate orthodontic problems. Patients with severe overcrowding or misalignment may require traditional metal braces, and we do not recommend Invisalign for children as their permanent teeth are still coming in. Baring these issues, most patients are great candidates for Invisalign. These clear aligners can address the following:
Crowded Teeth
Teeth that are too close together or overlapping trap plaque and bacteria, which dramatically increases your risk of cavities and gum disease. Invisalign can shift your teeth so they are aligned and easier to clean.
Gaps Between Teeth
When there are spaces between the teeth, the enamel is put at risk for damage. An Invisalign treatment can guide the teeth closer together to eliminate these spaces and provide you a strong, uniform set of pearly whites.
Bite Alignment
Bite problems like overbite, underbite, crossbite, and open bite can lead to various jaw issues like joint pain, teeth grinding, and TMJ disorder. A carefully designed Invisalign treatment from Dr. Salari can reposition your teeth and jaws to give you a healthier bite.
The Benefits of Invisalign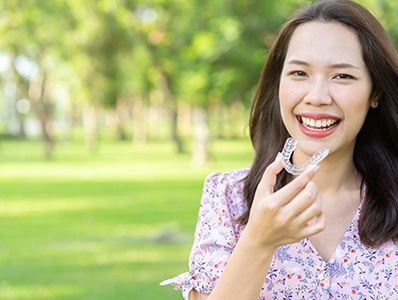 With traditional braces, patients must brush around the metal brackets and wires. This means that they may be left with temporary spots in the middle of their tooth enamel following treatment. Patients with metal braces also cannot eat super crunchy and chewy foods as this can damage their dental hardware. With metal braces, patients need to visit the dentist for maintenance regularly. Although traditional metal braces benefit patients with severe orthodontic concerns, they may not be the best for those with mild or moderate issues.
Invisalign bypasses nearly all the drawbacks of traditional metal braces! There are no noticeable or sharp metal wires and brackets. Plus, they can be removed for easy oral hygiene practices, and also allow you to eat all of your favorite foods. What's more, Invisalign patients typically finish their treatments faster than patients with metal braces.
How Much Does Invisalign Cost?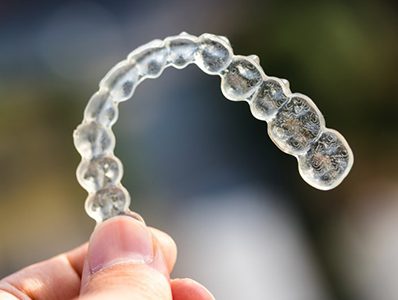 There is no set cost for Invisalign because each treatment plan is unique. How much you can expect to pay will depend on a variety of factors, such as your age, current oral health, and the severity of your orthodontic issues. Additionally, how often you wear your aligners and how well you care for them will play a key role in keeping your treatment timeline on track. When you come see us for a consultation, we'll be able to provide a custom estimate.
Schedule an Invisalign Consultation
Do you want to try Invisalign? Call Nova Smile Dental for a consultation today at 703.763.0800. You may also request a dental appointment with Dr. Salari or a member of her dental team on our website. We serve patients from Fairfax, Annandale, and Northern Virginia.