At Nova Smile Dental, Annandale dentist Dr. Salari provides comprehensive dental care to patients of all ages. As a dental specialist continuing her education, Dr. Salari keeps up with the latest technology and techniques for her patients. Utilizing modern dental care creates longer-lasting and higher-quality results. Dr. Salari's comprehensive dental services address oral health issues at the root while also improving the aesthetics of the smile.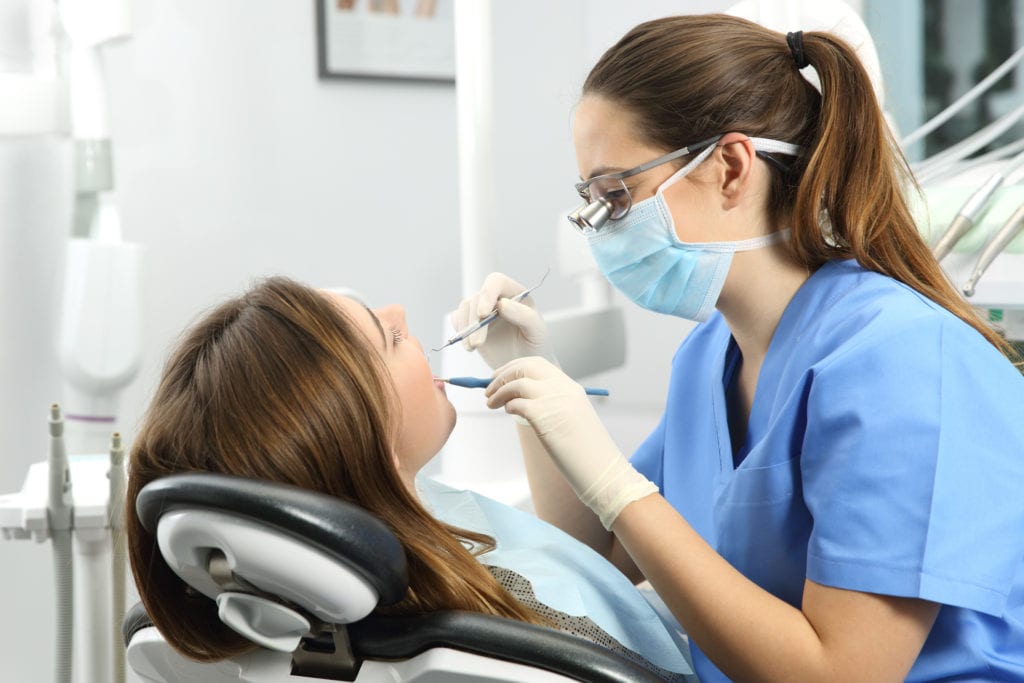 Dental Services in Annandale, VA
Our cosmetic, general, and restorative dental services improve the look, function, and health of the teeth and gums. Learn more about the dental treatments we offer patients at Nova Smile Dental below.
Cosmetic Dentistry
Cosmetic dentistry improves the aesthetics of the smile and encourages patients to maintain their oral health:
Invisalign: Clear Invisalign aligners offer a modern orthodontic treatment for patients with mild to moderate oral health concerns. Compared to traditional metal braces, Invisalign aligners offer comfort and no dietary restrictions.
Porcelain Veneers: Tooth veneers are thin porcelain ceramic shells that we bond to the front of the tooth enamel. Veneers address chipped, stained, and cracked teeth.
Teeth Bonding: Similar to dental veneers, tooth bonding addresses tooth discoloration and damage. However, dental bonding treatment differs from veneers in that it uses biocompatible material molded to the enamel.
Teeth Whitening: Professional whitening treatment is a great option for patients with stained, yellowed, or discolored teeth. Our whitening treatment is great for patients attending special events such as graduations, birthdays, and weddings.
General Dentistry
General dental care prevents future dental problems:
Custom Mouthguard: Sports mouthguards are worn to prevent tooth damage or injury to athletes. Custom mouthguards conform to the teeth and stay in during games. It is also easier to speak and drink with a custom sports mouthguard on.
Emergency Dentistry: Contact our dental office if you have a severe toothache, broken or lost tooth, excessive bleeding, or damaged dental restoration. We will provide you with immediate treatment for your dental concerns.
Family Dentistry: At Nova Smile Dental, we help patients track and maintain the health of their children's smiles as they grow.
Laser Dentistry: We offer laser therapy with gentle lasers to provide pain-free dental care. Dental lasers use heat and light to remove soft tissues. We also offer LaserSmile, which uses dental lasers to whiten the tooth enamel.
Dental Sedation: Sedation dentistry provides comfort and relaxation to patients during dental procedures. Those with dental fear or anxiety also benefit from this treatment method.
Tooth Extractions: Dental extractions are needed for patients with severely infected, overcrowded, or impacted teeth. They restore the health to the smile and are comfortable with our sedation options.
Restorative Dentistry
Restorative dental treatments revitalize the overall function of the teeth, gums, jaw, and bite:
Dental Bridge: Dental bridges restore multiple consecutive missing teeth with the help of crown-capped adjacent teeth or dental implants.
Dental Crown: Tooth crowns offer durability to worn, weakened, and damaged teeth.
Dental Implants: Tooth implants are dental prosthetics that can restore single missing teeth or secure dental bridges and dentures.
Full and Partial Dentures: Dentures replace multiple rows or even arches of lost teeth. Dental implant-supported dentures provide more stability to patients than traditional removable dentures.
Full Mouth Rehabilitation: This specialized treatment method uses a variety of dental solutions to remove the infection, restore teeth, and improve the look and feel of a patient's smile.
Periodontal Therapy: Periodontal therapy addresses the painful and damaging symptoms of gum disease or periodontitis.
TMJ Treatment: The temporomandibular joint can cause dysfunction to the joints and muscles in the face if damaged. We treat tooth damage and pain caused by TMJ disorders.
Call Our Dental Office Today
Want to know more about the dental services we offer patients at Nova Smile Dental? Contact Dr. Salari for comprehensive treatment today at 703.763.0800. You may also schedule a dental appointment with our friendly team online. We look forward to seeing you at your next dental appointment with us.